Back to school is in the air and registration is now open for a new season here at the Studio.  I hope you'll join me for some wonderful creative adventures online. We start in just a couple of weeks!
Journal Club (September 25 – November 27)
Find Out More & Register for Journal Club Here
Many creative hearts have been awakened through the simple act of journaling. In the pages of your journal you will discover your heart, your truth, your spirit. The gifts of journaling are rich but it can be a challenge to start this practice and to keep it up. Journal Club can get you over the hurdle of starting and then keep the inspiration flowing, all while in encouraging company!
We meet live on Fridays for an hour rich with deep introspection and soulful sanctuary, as well as laughter, doodling and the occasional dance! If you're looking for a community of encouraging creative souls – you'll find it at Journal Club!
This is my invitation to you: this will be the easiest door you've ever opened. You will be received with open arms and hearts. You will grow even braver. You will go deeper into the tender places in your heart and the laughing places in your belly. Come laugh and live with us; on the page and in the room with Jamie. I can see you've cracked the door open…fling it wide and step on in, we await you in our circle. Vugs, Laura
---
Mindful Mondays (September 21 – November 30)
Find Out More & Register for Mindful Mondays Here
What would be different if you started your week with time for you? What if, in a space of quiet and calm, you could hear your heart and build your plans from its wisdom?
With Mindful Mondays, you will embark on a weekly practice of meditation, imagination and journaling that connects you to your inner compass and allows you to develop and focus your plans based on insight and self-trust.
The practice is simple. The impact is palpable.
I find that I look forward to this focused time to get my week off to a great start. I know I got things done this season that I wouldn't have otherwise because I had a place to announce my celebrations. I loved hearing everyone's comments each week, gathering inspiration from their touchstones and celebrating our accomplishments. While I found it challenging to get up earlier the first few weeks, it's now a dedicated part of my week that I really look forward to. Starting Mondays like this has helped me focus more mindfully throughout the week. Thank you Jamie and everyone in the circle. Mindful Mondays made my season more magical. Such a supportive, insightful group of women. I will miss you all during the break. Who knew that one special hour could mean so much? Amy
---
The Studio Yearbook Seasonal Journal (Available Now – Begins September 22)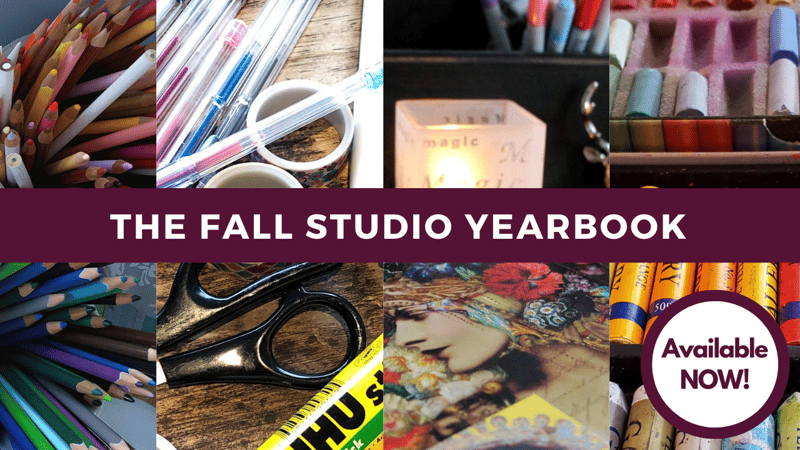 Find Out More & Get Your Studio Yearbook Here
Imagine having a journal that supports your creative process and practice, a journal that not only holds the space for your inspirations and celebrations but that also becomes a beautiful keepsake of your journey as an artist. The Studio Yearbook brings together creative practices that have been in use at Jamie Ridler Studios for years! Imagine one place to celebrate the seasons and make a dreamboard under the full moon, one place to gather your gratitude and acknowledge yourself with gold stars, one place to be inspired, to learn, to experiment, to grow – a special place to bring your creativity to life!
My Studio Yearbooks have changed the way I journal. I love that the yearbook can be anything I want it to be and mine has become a place where I dream, create, and capture memories of what's important to me and my family. Before I discovered the Studio Yearbook six months ago, I found it difficult to incorporate art and creativity into the pages of my journals. The prompts Jamie provides make this simple and fun and now I use collage, color, and sketches (something I thought I'd never do) as well as words, in my Yearbook daily. I still rely on my version of morning pages to vent and release frustrations, and this leaves my Yearbooks free to become the memory keepers that I've been wanting to create and just didn't know how. I'm so glad I found Jamie Ridler and her many studio resources! Denise
---
In addition to these LIVE classes and timely offerings at the Studio, there are self-study classes available in

the Academy

.  Register now and gain immediate access!
---
And Coming in 2021 ~ A Brand New Program for Your Artistic Devotion